"Namostestu Maha Maye, Shree padmeye, sura poojithe, Shanka, Chakra, Gadha hasthe, Maha Lakshmi Namostute"
"Om namosteh sarv devanam barodasi haripriye
Ja gotistangm proponanam sa meh bhurvartah darchnaat"
"Om vishwarupasye bharjaysi padme paddalaya shubhe
Sarvatah pahimaan devi mahalakshmi namostute"
The autumn festivity that had started with Durga Pujo, concludes with another much awaited Lakshmi pujo or more precisely Kojagari Lakshmi pujo for Bengali, that falls on Kojagari purnima or sharad purnima as known elsewhere in other parts of India. The Kojagari Laxmi puja falls on the full moon day in the lunar month of Ashwin, when devotees worship Goddess Lakshmi, as the name denotes. The traditional bhog or food offered to Goddess Lakshmi is very distinct. Khichuri, a mixed vegetable item called labra or chorchori along with five kinds of fried vegetables or bhaja are offered to the goddess.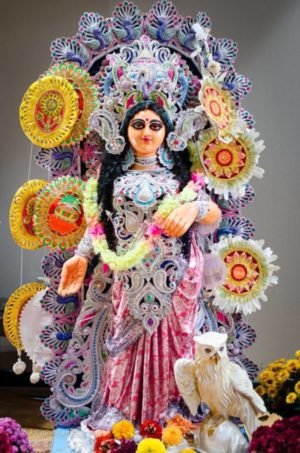 Join us!
Become a Member
Be a part of Kochi's first & the grand old association and discover the whole new world of your community.