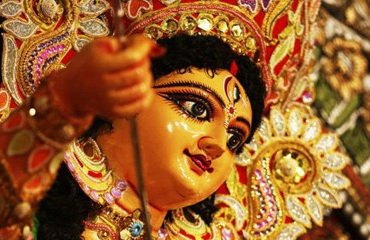 "Om Sarva Mangala Mangalye Shive Sarvartha Sadhike
Sharanye Tryambake Gauri Narayani Namostute
Srishti Sthiti Vinashanam, Shaktibhute, Sanatani
Gunashraye, Gunamaye, Narayani, Namostute
Sharanagata Dinarta Paritrana Parayane
Sarvasyartihare Devi Narayani Namostute"
The biggest event of Keral Banga Samskriti Sangha is Durga Puja and Sharad Utsav which is held in the month of September or October depending on the Durga Puja days. Sarbajanin Durga puja have been celebrated in KBSS since 1967.
The festival starts with Annando Mela on Panchami, Sasthi, Saptami, Asthami, Navami and Dashami bring in all members and residents with their families and friends to celebrate the days with special puja, cultural shows, competition, dhunuchi naach, sindur khela and fun filled days which we wait for each year around. Durga Puja throws many challenges to the members as we strive to create an excellent atmosphere to prove that we are one of the best organised puja in Kochi. We pride ourselves for providing an authentic cultural immersion for our community.
Join us!
Become a Member
Be a part of Kochi's first & the grand old association and discover the whole new world of your community.